VIRTUAL GASTRIC BAND HYPNOSIS...
Take the Weight Off (With) Your Mind
by Robin Roberts, C.C.H.
Hypnosis Houston for Virtual Gastric Band Hypnosis
Bariatric surgery - which includes Gastric Sleeve, Gastric Bypass and Gastric Banding - is the hot topic of conversation these days as many consider this a fast-track solution. These types of weight reduction surgeries are serious procedures where the size of the stomach is decreased resulting in reduced food intake and enabling the person to experience a significant weight loss.
Let's face it, the idea of a program that will reduce your weight 'automatically' by causing you to be fuller, faster is appealing. What's not so appealing is undergoing a medical procedure involving anesthesia and hospitals to achieve it. And cost - many people simply don't have the disposable income or insurance coverage to handle the $17,000 or more price tag. Then there are some folks who are simply not candidates for the surgery. For example, the Body-Mass-Index (BMI) guideline is usually a BMI of 35 and more often 40. For men that translates into 100 pounds or more overweight; for women, 80 or more pounds. If the patient is not at that point or has no complicating issues such as diabetes they could be turned away on this basis alone.
There is also the consideration that two of the surgeries are permanent. While the band procedures can be reversed, the sleeve and bypass procedures remove or permanently circumvent part of the stomach and are irreversible. Scientists have also recently discovered that bariatric surgery may cause hormonal changes and effects on the nervous system that suppress appetite, too. Much about how these changes relate to weight loss is still unknow.
What to do?
Enter a program - already successful in Britain for over three years - that solves those problems. The Virtual Gastric Band is a non-surgical technique which uses the power of hypnosis to retrain the mind to be satisfied with smaller amounts of food. The sessions offer suggestions which change how the person thinks about food and creates very safe, very predictable results. The hypnotic suggestions convince the brain the stomach is full after a certain level of intake, and that there is no need for more food.
The beauty of having virtual surgery is that there is no invasive procedure and no actual physical intervention with the digestive system. Another benefit to having the hypnotic gastric band is that there's no possibility of complications or risks from surgery and no ongoing need for medical intervention. Because fundamental emotional reasons for weight gain are addressed with the program the possibility of regaining the weight is reduced. Perhaps highest among the benefits is the price tag, coming in at less than 10% of the surgery itself.
An ideal candidate for this program is someone committed to changing their eating habits and lifestyle, able to relax to a state similar to daydreaming, and ready to be successful.
While the Virtual Gastric Band may not be the answer for everyone, it can be a solution for many who, for whatever reason, would otherwise not pursue a surgical option.
Robin Roberts, Certified Consulting Hypnotist, has an office at 2402 Broadmoor Dr, DII-101 in Bryan. For more information, contact her at 979-739-7143 or via email at Robin@RobinRobertsCH.com
Michael Schuman, Board Certified Hypnotist, 5909 West Loop South, Ste. 370, Bellaire, Texas 77401. For more Information, call 731-662-8511 or via email at mike@hypnomike.net.
1 Consumer Guide to Bariatric Surgery 5/2012
Is Virtual Gastric Band Hypnosis right for you?
Article about Virtual Gastric Band Hypnosis - by Nicky De Lange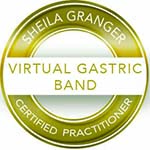 N.G.H. Specialty Certifications in:
Complementary Medical Hypnotism
Hypnosis Pain Management